Alpine or Forest Hikes
Hiking on BC's Central Coast
Valley Hikes May to August - On request (Family Oriented, Easy to Moderate)
Alpine Hikes June/July-September - On request (Depending on access due to snow, Moderate to Difficult)
Join experienced guides from our lodge on local trails, interpretive nature walks or more challenging routes throughout of Bella Coola Valley, Tweedsmuir Park and the West Chilcotin. Trails throughout Bella Coola Valley combine old growth coastal scenery with stunning mountain views, scenic river and ocean backdrops and cascading coastal waterfalls. Trips can be arranged fro half day to multi-day hiking/camping excursions, including Tweedsmuir Park's Rainbow Mountains & Hunlen Falls.
Tours can be arranged for all fitness levels and family groups are welcome!!! Our 4x4 alpine excursions allow guests to travel in a comfortable pickup truck or off road unimog to upper elevations of the coast range to experience coastal alpine hiking. Destinations include Blue Jay Lake and Odegarrd Falls areas, which require 4x4 high clearance vehicles.
Tweedsmuir Park ~ Nature Interpretive Tour & Bears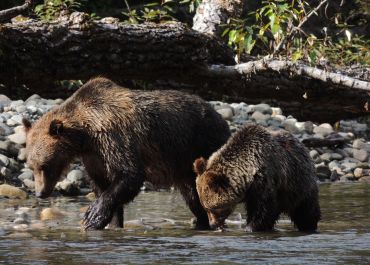 From $175.00 per person
Join our naturalist guide to learn about spring and summer ecology of Tweedsmuir Park on the valley floor of the Atnarko River. These half day trips are prefect for light walking and trekking on easy to moderate trails of the region. Your guide will meet you at the trail head to hike one or two easy to moderate trails of the area, and give you an interpretive overview of the ecology, habitat and animals you may see.
This trip is primarily an ecological experience, to learn about wildlife, geography and natural process of the region. On this trip you will intersect wildlife trails, look for bear tracks, learn about temperate rainforests and always have a great chance of seeing and watching black or grizzly bears. Other wildlife includes bird of prey, song birds and waterfowl, as well as deer, possible wolves and smaller land mammals.
---
Tour Information & Frequently Asked Questions
follow this link to a PDF file of information to help you prepare for your tour!
Book Your hiking Tour Here


Follow this link to our Contact and Booking Form to request a tour reservation

Book Here!